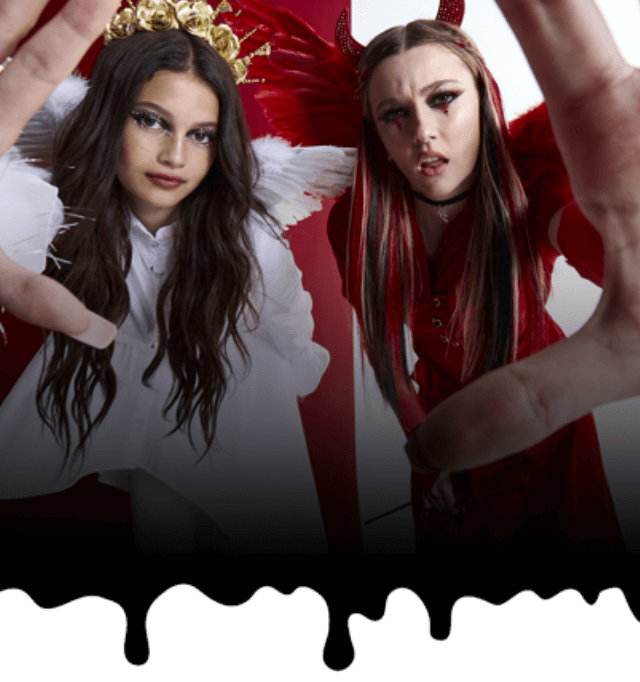 Craft Your Costume
Now is the time, now is the hour, Claire's
has the magic to give your outfit power!
A Little Makeup,
A Little Hair
Get all you need to give your costume flair!
Halloween Parties, Tricks, & Treats
We've Got Picks That Can't Be Beat!
Shop Halloween By Category
Popular Halloween
Halloween Costume Ideas
It's the season of magic and fright! Let your imagination fly, like a witch in the night! Claire's has cauldrons of ideas for easy Halloween costumes for girls. Check out our ideas to create your own costume or complete a unique costume that screams me! To be scary or for cuteness, throw on some Halloween jewelry for girls to provide some edginess or sass. If there's something we have a ton of, it's definitely our girl's costume jewelry that you can continue to wear after Halloween is over!

Halloween makeup for girls is what makes this holiday the most fun! Paint, highlighter, girl's Halloween gems, and ghoulish lipsticks are all yours to play with to create the perfect Halloween look. Girl's Halloween gems for costumes are great for creating a face mask or to place on your body for that sparkly unicorn or mermaid look! You'll have a lot of fun playing with our girl's Halloween makeup!

Masks create mystery and you can count on Claire's to give your mask glam with extra flair in rhinestones and glitter. Our girl's Halloween masks use simple appliques with long lasting adhesive to add bling and mystery to your eyes. You'll be able to keep the mystery going throughout your trick or treat adventures!

Fake hair for Halloween can liven up any costume! Girl's Halloween wigs can make your costume truly authentic and one of a kind! For some small touches, you can apply girl's fake hair extensions for Halloween with ease and without the mess of using real color on your hair. Just like your real hair, brush it out and take care of it to make it as realistic as possible. Say goodbye to your boring hair for a night!

You will have so much fun picking out cute Halloween outfit accessories! Our usual assortment can contribute to the right look in so many ways, and our Halloween accessories for girls is what will give it that little something extra to make trick or treating a blast! Here's your chance to really let your creativity shine!