Why Claire's?
Engaging Activities & Games

We'll help you plan fun & unique activities to pair with your theme!

Unique Party Location

A great place to party for any little fashionista!

Wide Selection of Party Items

We've got the perfect pieces to create any theme!
What You Get ...
Exclusive Discount Offers

A great deal for you and your guests to shop our store!

Free Gift

The guest of honour will get a gift up to a £15 value

Party Invitations

FREE fab invites for your guests!
What to Expect...
Easy Booking

It's as easy as buying a gift card! Call store for details.

Perfect Themes

We can help you choose or help you with your fun ideas!

Exclusive Savings

Amazing deals for you and your guests to shop!

Party Specialist

Let us help you out with your party planning!

How to Book ...

Contact Your Local Store
Our party specialists are ready to assist you! Call to find out more information.
Find Your Nearest Store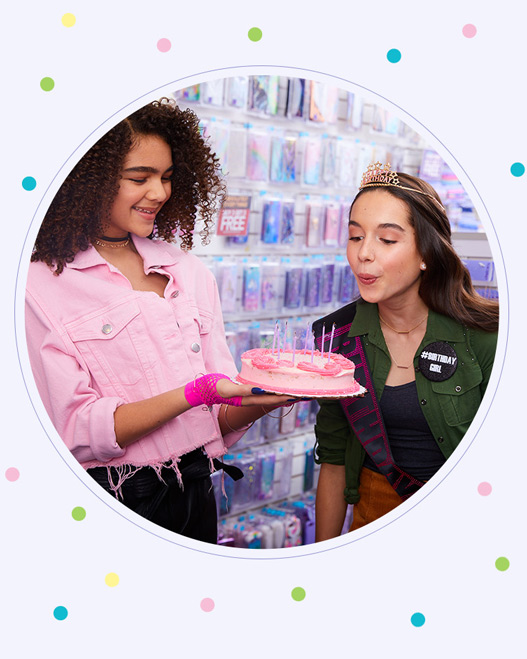 Keep Up with Claire's!
Sign up for Claire's emails and get the inside scoop on having your parties at Claire's plus exclusive offers!
Frequently Asked Questions
Parties are available to everyone! To book the party, you must be aged 18 or over. The party should also be accompanied by an adult aged 18 or over.

We recommend a minimum of 6 guests and a maximum of 20 for any Claire's party. However, this will vary by store and will be at the Store Managers discretion.

The total cost of a party will be dependent on the total number of guests in your party and the themes and accessories you choose. We'll help you customise a party to suit your budget. To reserve your chosen party date, simply purchase a £50 gift card. This can then be redeemed against the total cost of your party and you can top up whenever you like.

This will be dependent on the number of guests in your party, and the availability within the individual store. Our party planning team will be able to advise you in this matter.
Here's a Few More Ideas...
There is plenty more party fun and suggestions just a click away. Take a peek at a few more helpful things to know right here.
Download The Brochure
About Claire's Parties!
Birthday Parties at Claire's
Kid's birthday party places are sometimes hard to come by. But if you're looking for birthday party venues or kids party venues, you need to check out all the amazing things Claire's has to offer! You can look through our amazing party rooms for rent, get a few amazing party themes for kids, and play some fun party games. Our talented party specialists are on hand to help in planning a birthday party or any special event! You can always search other party event locations, but none will compare to the unique layout of a Claire's store. You have wall to wall accessories for every fashionista, creative and fun party themes that only Claire's could transform to an epic party, and great discounts for you and your guests to enjoy so you can go home with our fabulous trends!
Party Themes for Kids
Birthday parties at Claire's are one of a kind! We are known for some amazing product in each of the themes we offer. Every kid loves the magic of unicorns and we can give you all the unicorns you love and more! Create a colourful celebration with a gorgeous rainbow theme with bold and bright decorations and accessories. Our birthday party themes will treat the guest of honor like royalty! We can even give you a fabulous tiara to match this kid's birthday party theme! Of course our party specialists are able to help you with any other fun ideas you might want to utilize for your parties, so let's make a fun celebration together!
Party Games
It's never a party without kids party games! What amazing ideas do you have? We've got a few good ones up our sleeve too and we promise to make them engaging and original. How about a dance contest or pin the whiskers on the Pusheen? See how else we can help you put together party games for kids for any event.
Planning a Party
We know a thing or two about how to plan a kids party, but like we mentioned before, we welcome all your ideas and maybe we can give them a Claire's twist! We've got a birthday party checklist on hand to help you out so no birthday kid, guest of honor, or invited guest gets left behind.
Party Packages for Kids
Each Claire's store offers something unique and different. Please don't hesitate to reach out to your local Claire's store to see what party packages for kids we offer. For birthday parties, ask for our birthday party planning packages to we can help you every step of the way and fit your budget. We love celebrating with you, let's make it a celebration to remember!