Congrats
You're in the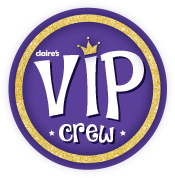 Your first VIP benefit will be in your inbox soon!
Plus we'll be keeping in touch with more things to look forward to...
Exclusive VIP Discounts

Extra special just for you!

Share Your Ideas

Tell us how we can improve our products!

Surprise Birthday Gift

Because we LOVE celebrating you!

Event Alerts

Be the first to know about Claire's events!
#clairesVIP
Offers cannot be combined with other coupons/vouchers. Excludes JoJo Siwa, Ty Beanie Boos, Harry Potter, Doug The Pug, Pusheen, Minnie Mouse, PopSockets, Gift Cards, Piercings & Ear Care Solution. Other exclusions may apply.