Why Claire's?
Engaging Activities & Games

We'll help you select the best activities to increase the fun!

Unique Party Location

Claire's is every girl's happy place with wall to wall accessories and toys!

Wide Selection of Party Items

Whatever your theme, your party will look amazing!
What You Get ...
Exclusive Discount Offers

Fun deals for you and your guest to shop our store!

Free Gift

Our guest of honor will get an awesome gift up to a $15 value!

Party Invitations

FREE fab invites for your guests!
What to Expect...
Easy Booking

It's as easy as buying a gift card! Call store for details.

Perfect Themes

So many to choose from! Let our party specialists help you out.

Exclusive Savings

For you and your guests to enjoy!

Party Specialist

You'll get a helpful coordinator to help with planning and activities!

How to Book ...

Contact Your Local Store
Our party specialists are ready to assist you! Call to find out more information.
Find Your Nearest Store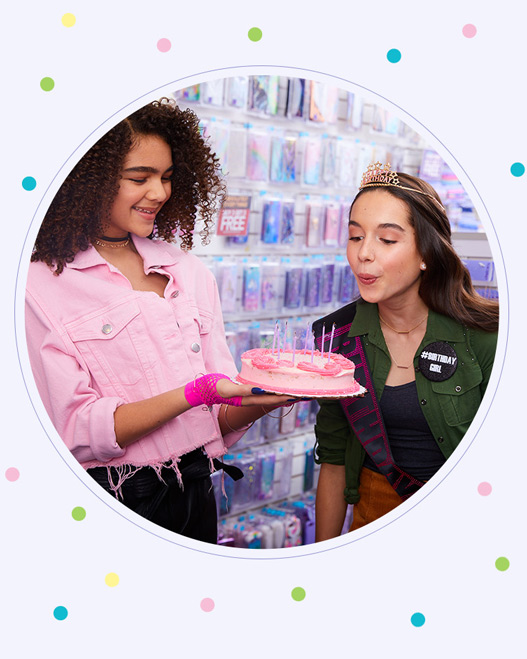 Keep Up with Claire's!
Sign up for Claire's emails and get the inside scoop on having your parties at Claire's plus exclusive offers!
Frequently Asked Questions
Parties are available to everyone! To book the party, you must be aged 18 or over. The party should also be accompanied by an adult aged 18 or over.

We recommend a minimum of 6 guests and a maximum of 20 for any Claire's party. However, this will vary by store and will be at the Store Managers discretion.

The total cost of a party will be dependent on the total number of guests in your party and the themes and accessories you choose. Our store associate can help create a party to suit your budget.

This will be dependent on the number of guests in your party, and the availability within the individual store. Our party planning team will be able to advise you in this matter.
Here's a Few More Ideas...
There is plenty more party fun and suggestions just a click away. Take a peek at a few more helpful things to know right here.
Download The Brochure
About Claire's Parties!
Birthday Parties at Claire's
When it's that time of year to consider kids party venues, think of how much your party will sparkle at Claire's! We can make any event the best one ever with super fun party games, creative party themes for kids, and great birthday party planning packages! Known as one of the best kids' birthday party locations, Claire's has walls covered in the latest trends & accessories for every type of kid. We'll make the guest of honor feel special with a gift card, a commemorative certificate, and a fun time with friends! Get together with your favorite people at one of our party event locations and a party specialist will be happy to coordinate a memorable day! Take a peek at our brochure to find the perfect party rooms for rent to meet your needs. Also, don't hesitate to call your nearest Claire's to see what they offer as well as give you the rundown on how to plan a kid's party give you your options for party packages for girls.
Party Themes for Kids
If there's one thing Claire's knows how to do, it's how to PARTY! We welcome all of your ideas to plan the perfect celebration, or one of our talented party specialists can help assist in choosing birthday party ideas and themes. You can have anything from a magical unicorn party complete with glitter and unicorn horn headbands, get treated like royalty with a gorgeous princess party, or get your best girls together for a fun makeover party for a girl's night in theme! Let's help you plan the perfect event with any one of our birthday party themes.
Party Games
Every awesome party needs the best party games for kids! Our party specialists have a few good tricks up their sleeves when comes to keeping your kiddos entertained. How about a round of pin the ears on Claire the bunny? Get your friends together to create a fun dance contest! Kids party games have no limit and our specialists will be on hand to make it a blast!
Planning a Party
We've got your birthday party checklist to make sure there are zero party fails. Cake, decorations, plates, balloons...we've got all your reminders to help you on planning a birthday party or any event. See what we have available to help you out, call our store to coordinate quantities and themes to make sure everything is covered.
Party Packages for Kids
Each store might coordinate their parties differently. Give a ring to your nearest Claire's to understand availability, restrictions, and reservations to make sure you get the right one for your party! We've got great party packages for birthdays too!