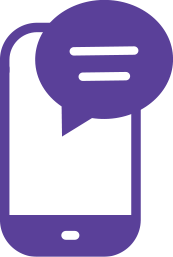 Get deals & be in the know!
TEXT
GLITTER

TO

49630

to receive great deals and promotional offerings.
Standard text message and data charges apply. Read the terms and conditions of our text message program below, or call 888-claires (888-252-4737) for more information.
Claire's - Mobile Text Message Program Terms and Conditions
Text GLITTER to 49630 to receive great deals and promotional offerings. You authorize Claire's ("Claire's" "us" "we" or "us") to deliver, to the mobile phone number you used to opt in via short code or that you otherwise provided to Claire's, promotional and other text messages, including messages sent using an autodialer. Your consent to receive messages sent using an autodialer shall not be interpreted to suggest or imply that any or all messages are sent using an autodialer/automatic telephone dialing system.
By signing up for this text message Program (the "Program"), you agree to these terms and conditions ("Program Terms") and our general Terms of Use (which include mandatory arbitration of disputes, waiver of class action rights, limitations on your rights and remedies, and limitations on our liability). You further consent to our practices as described in these terms and conditions and in our Privacy Policy.
You understand that message and data rates may apply and your carrier may charge you or deduct usage credit from your account when you text us or we text you. We will not be liable for any delays or failures in your receipt of any mobile messages connected with the Program. Delivery of mobile messages is subject to effective transmission from your carrier and is outside of our control.
No purchase is necessary to subscribe to the Program, and you are not required to accept these Program Terms as a condition of purchasing any property, goods or services. If you do agree to the Program Terms, you consent to receiving recurring promotional Program texts each month (up to 8 messages per month), plus additional non-promotional texts. You acknowledge and understand that short-form descriptions of Program message limits (e.g., 8 msgs/mo.) refer to promotional messages and not to other messages, such as messages we send in response to HELP requests.
You can unsubscribe from the Program by texting "STOP" to the Program short code (49630) or as a reply to a Program message you receive. You can also unsubscribe by emailing us at [email protected]. You hereby consent to receive a text message confirming that you have unsubscribed, as well as other non-promotional text messages. To the extent you subscribe to more than one Claire's text message program, you must unsubscribe from each program separately.
You agree to promptly notify us if your phone number changes or you do not continue to own and control the device assigned by your carrier to the number you provided us by emailing us at [email protected] or by calling 888-claires (888-252-4737). If at any time, you intend to stop using the mobile telephone number that you provided to sign up for the Program, including by canceling your service plan or selling or transferring the phone number to another party, you agree that you will opt out of the Program prior to ending your use of the mobile telephone number.
You represent and warrant that you are the age of majority where you reside (18 in most states) and are a U.S. resident using a U.S. mobile number to subscribe. If you are under the age of 18 but at least 13 years of age, you may participate in the Program only under the supervision of a parent or legal guardian who agrees to be bound by these Program Terms. If you are a parent or legal guardian agreeing to these Program Terms on behalf of a child between the ages of 13 and 18, you acknowledge and agree that you are fully responsible for the child's participation in the Program, including any legal liability the child may incur.
The Program may not be available in all areas or supported by all carriers or all devices. Check with your carrier for details. Compatible carriers include: AT&T, T-Mobile®, Verizon Wireless, Sprint, Boost, U.S. Cellular, Cellular One, MetroPCS, ACS/Alaska, Bluegrass Cellular, Cellular One of East Central Illinois, Centennial Wireless, Cox Communications, EKN/Appalachian Wireless, GCI, Illinois Valley Cellular, Immix/Keystone Wireless, Inland Cellular, Nex-Tech Wireless, Rural Cellular Corporation, Thumb Cellular, United Wireless, West Central (WCC), Cellcom, Cellsouth, Cricket, Cincinnati Bell and Virgin Mobile.
Carriers are not liable for delayed or undelivered messages.