NEW!
Nose Piercings
Our piercing kits make it safe and easy to get your first stud.
Level up with Rapid™ After Care and switch up your look in just 6 weeks!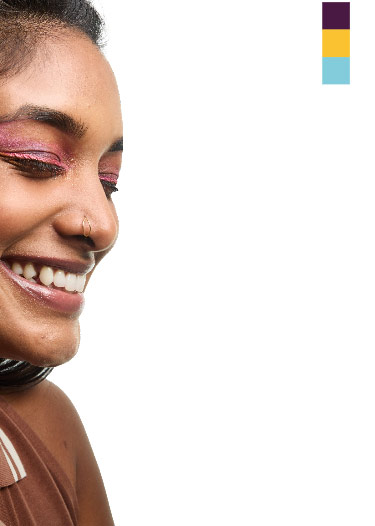 We Make It
Easy!
Ready to rock your new nose piercing?
Choose your stud and after care now.
Change Your
Stud In 6 Weeks!
With Rapid™ After Care Solution

Our gentle treatment is specially formulated to help soothe and clean your new piercings.
*6-week application time for nose piercings and 8 weeks for cartilage piercings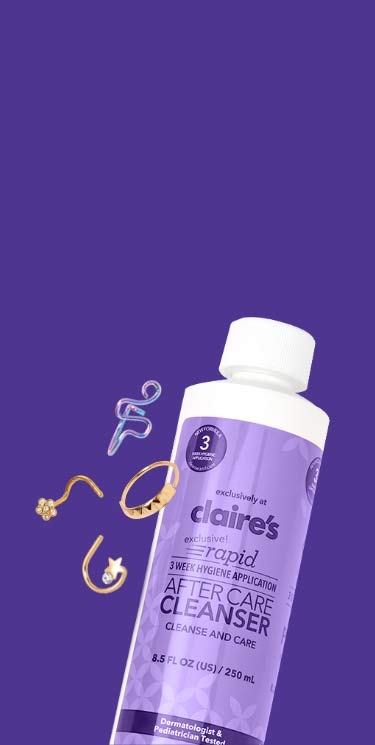 Frequently Asked Nose Piercing Questions
Below is a list of common questions and their answers. If you don't see your question here,
feel free to contact your local Claire's to find the information you need.
The best way to ensure proper healing is to follow the instructions given to you by your piercing specialist and use our aftercare solution. Using our Standard Aftercare solution your nose piercing should heal within 8 weeks. We also have Rapid™ After Care Cleanser that can help you change your piercing within 6 weeks.
Caring for your nose piercing is a lot like caring for ear piercings. Wash and dry your hands prior to cleaning. Clean the area of your piercing three times a day with your Aftercare Solution on a cotton pad. Keep your new piercing free from any other products. We recommend that you avoid swimming or soaking your piercing area until it is fully healed.
When you can change out your nose piercing depends on which aftercare solution you use. If you choose Standard Aftercare Solution you can change out your nose jewelry 8 weeks from the time of piercing. If you use Rapid™ After Care Solution you can change out your nose stud in 6 weeks.Think you're ready to change things up? Stop on in and check out our cute nose piercing jewelry!
Claire's offers a Standard Aftercare Solution and a Rapid™ After Care Solution. Either of these are a great option for cleaning your nose piercing.
Shop Nose Piercing By Category
Popular Nose Piercing