Shop Ear Piercing By Category
Popular Ear Piercing

FREE*
Piercing
with purchase of a starter kit
Online booking now available**
Walk-ins welcome!
×
20% off in-store purchase excludes ear piercing starter kit. Other exclusions may apply.
Seven Looks To Love!
Traditional, trilogy or cartilage? Get these looks and more for free with the purchase of a starter kit.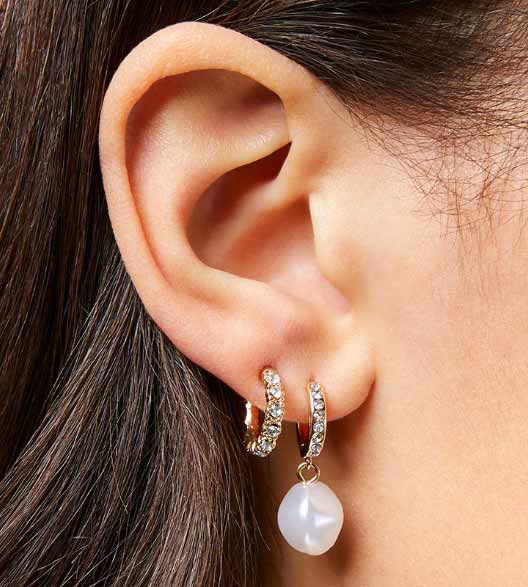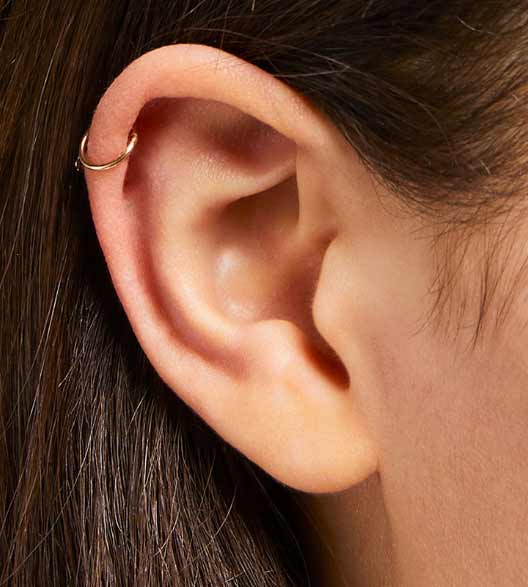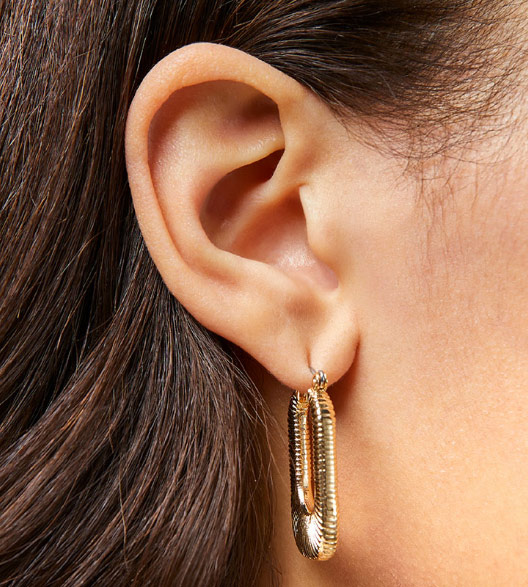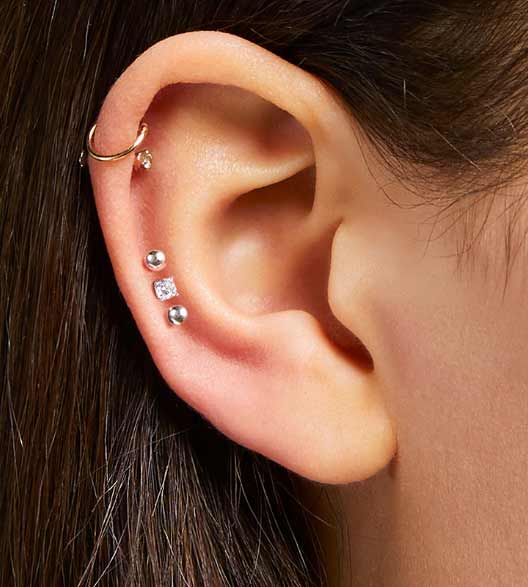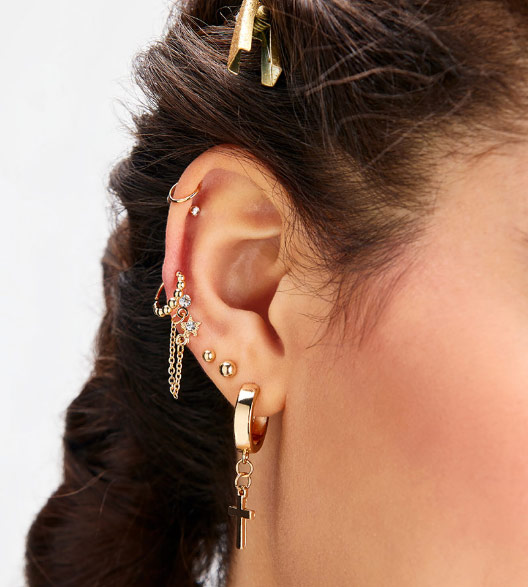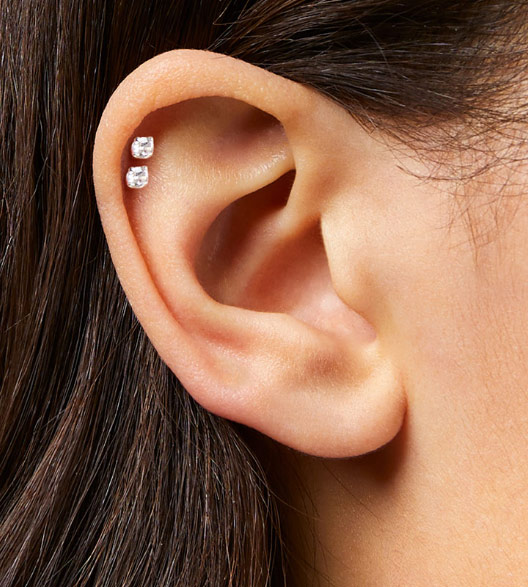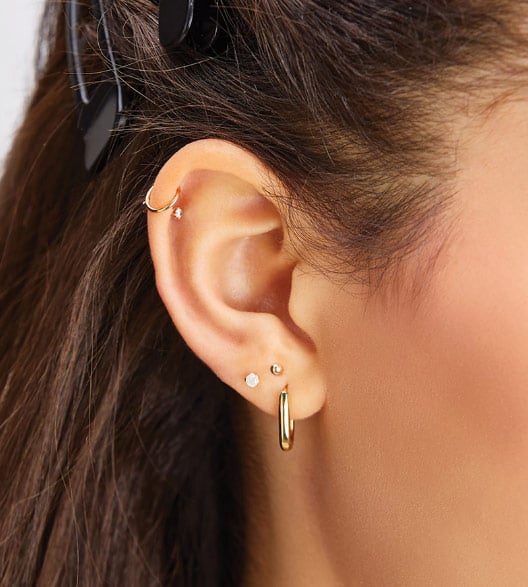 Basic Lobe

Cartilage

Single Lobe

Auricle

Multi Lobe

Spider

Trilogy

Stud & Care Kits
Level up your experience with a starter kit and get free piercing in-store and more!* Select Rapid™ After Care Solution for quick post-piercing care and heal time.
Quality, Baby!
Only the best for your new piercings. Choose between four jeweler-quality metals, each selected for ear sensitivity and durability.*
There's always a lot of excitement in our stores when we have a customer walk in, ready to get their ears pierced! A lot can go into a decision like adding a new stud, especially for your littlest ones getting their first ear piercing! We have been lucky enough to share a lot of "firsts" with people throughout the years, and we love sharing in your memories with you!
When you're feeling ready for a brand new ear piercing from Claire's, make sure to take a look at our assortment of studs. If you're looking for a bit of bling or pretty metals, you might like our diamond stud earrings or our options in 14kt white and 14kt yellow gold earrings. If you like traditional earrings, glance over our 24kt gold plated stud earrings that come in more than just your average ball or cubic zirconia. Claire's offers beautiful options in 14kt white gold birthstones to add a little color to your subtle, new ear additions.
All of our ear piercing specialists are fully trained to ensure that they meet all safety regulations and requirements before performing the piercing. With over 100 million ears pierced since 1978, no wonder we are regarded as the piercing professionals! Did you know that we have pierced the ears of Olympians, musicians, and actors? We have even pierced their kids too!
So what is Rapid™ After Care Cleanser? It packs a powerful solution that takes care of your earlobes in the best way! This product is an exclusive item for Claire's because we care a lot about how you take care of your new ear piercing once you leave our store. Daily care is essential, and Rapid™ After Care is the best!
When you visit us at our stores, we want to make sure that we make you feel welcomed and comfortable with the procedure. We'll chat with you, have you tell us what you're looking for, and use all individually packed and pre-sterilized tools. Afterward, we'll go over care for your new piercing including guidelines and ear solution. It's so simple and easy, you'll wonder why you didn't come in sooner! Let us take care of you! Now, at select Claire's stores, self-scheduling is available! Book your ear piercing appointment online or stop into Claire's and speak to an ear piercing specialist today.
For each piercing appointment we fully sanitize the ear piercing station and chairs, sanitize hands and instrument using medical grade supplies, wear a mask and utilize single-use medical grade disposable gloves during the piercing procedure. Our specialized piercing earrings are part of a pre-sterilized cartridge that is loaded directly into the piercing instrument without ever being touched by the store associate.
To ensure proper healing, always keep your hands clean before touching a new piercing. Hold the front of the earring and make half turns each way, two to three times per day. Never remove the butterfly or earring back during cleaning or push it in too tight. Clean the front and back of your ear 3 times a day with your After Care Solution on a cotton wool pad. Keep your new piercing free from soap, perfume, hair & cosmetic products. We suggest that you avoid swimming for 24 hours after your new piercing.
All Claire's associates are trained in local piercing policy, practice, and procedures in order to deliver clean, hygienic and safe piercing environments. Each associate must complete "practical sign off" which means they must demonstrate excellent piercing technique prior to our piercing trainer validating the associate's certification. Our training program is certified by our partners at Studex, and our modular training program ensures our associates not only understand the policy, but that they can practically implement it as well. The key is consistency, so in addition to the initial training, all piercing specialists must undergo refresher training on an annual basis. This means that the associates will not only attend training again but also complete another "practical sign off" giving you the extra reassurance that your piercing specialist has the most recent knowledge!