Popular Jewelry
Anything But
Basic!
We've got the drip to elevate your look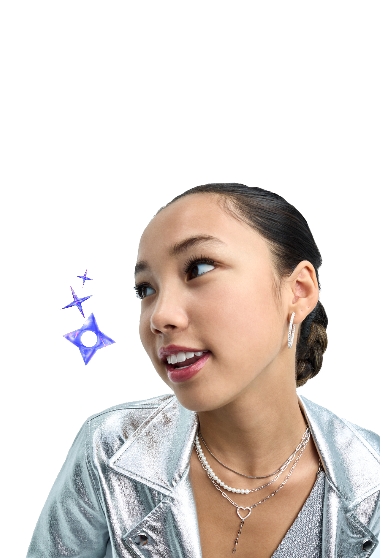 Calling All Hearts
Shop heart-stopping V-day glam
Icey Styles For Winter
These earrings are a whole mood
Brilliance Defined
Precious metals made to last
What's Poppin'
Unique for you and your crew
Jewelry
Cubic zirconia earrings are your cost-effective approach to high-end glam! No one will know the difference once you put on a pair of cubic zirconia stud earrings! Put together your evening look with cubic zirconia drop earrings for a dramatic effect to your prom dress or your wedding guest attire. If you just like to sparkle on any day you'll love to try sterling silver cubic zirconia earrings with that extra shine you need to blind everyone around you, cause why not shine?
If you like to step outside of the box and regular old stud earrings in your lobes just weren't enough; you'll LOVE our alternative earrings for girls that will style up your ears with conch jewelry, heart tragus earrings, and maybe top off that ear party with a titanium helix earring. Perfect and classy styles with simple designs will be your go-to while edgier metals or spike earring designs can be your going out look! We didn't leave out industrial piercing jewelry either; find bars, spikes, and more in a gorgeous array of colors and gems to glam you up!
Adorn your neck with cute necklaces for girls! Multi strand, chokers, and best friend necklaces for girls are really just a few of many you'll love to wear! Sweet treats and foods are the best for sharing with your friends or if you just need the world to know what your favorite snacks are. Donut worry and give a donut best friend necklace to your BFF, or wear an ice cream charm necklace when you're feeling sweet! In our necklaces for teen girls, we've selected trendy tassels and fringes that are both multi-strand and matched with other favorites like feathers or initials. What we love about our necklaces for girls is how you can play with multiple necklaces and layer it up to show off the perfect look! Grab some girl's necklaces in long strands to amp up an evening look.
Cute bracelets are a staple in any girl's jewelry box! So if you are going for boho, rustic, or edgy vibes, check out Claire's stackable bracelet looks! We know your squad means everything to you, so we have cute friendship bracelets for you and your whole pack! Find 2, 4, and 6 packs cause we don't want to leave any VIP's out! You can layer up these looks too with other bracelets like slap bracelets or snap-on bracelets in vibrant colors, or charm bracelets.
Layering up bracelets doesn't stop at just snap bracelets; keep layering with girl's charm bracelets. Make it fun with trading your charms or adding on important pieces passed on to you as gifts, or personalize it with initials charms! Choose from adorable animal charms like turtles, piglets, or even a pug! Still hungry? Try a little avocado bracelet charm or play with fantasy and add on a unicorn charm. All of these cheap charms for bracelets will have you collecting all of your favorite things, just so you can show it off to your friends. Charm bracelets for kids are available for the little ones in flexible, comfortable materials.
Pair your layered looks with adjustable rings or cute rings for girls that will look great in our gorgeous colors and fun shapes like critters and snacks. Find rings for teens in multiple rose gold ring sets, or keep your trusty mood ring close. Bling it up with royal-like fake diamond rings or blossom with rose-emblazoned rings for your more flowery days. Mixed metals and boho-style geode rings are the hottest trends in layering mix-matched ring looks. Midi and mini rings are a great addition to your digits and for more layering options!
Make it boho or make it edgy with girls' stretch bracelets, and mix them up with gorgeous chain links or intricate designs for any event. Stacked beaded bracelets will look great with brushed gold, sterling silver, and other precious metals to create formal or casual looks. Since these are flexible and adjustable accessories, kid's beaded bracelets make great gifts for the trendsetter in your life! Stretchy beaded bracelets can do more than just complete a look; it can really amp it up with free spirit vibes that will make it unforgettable!
Dress up those feet with anklets for girls and beautiful ankle jewelry! Share with a friend with best friend anklets in mixed metals and adorable charms, or glam it up with sterling silver ankle bracelets for a special occasion! Wear it with heels, cute ankle boots, or sandals! We are here to adorn you head to toe with great jewelry for every occasion! Make your look unique with Claire's jewelry and a lot of love. All you might need is love, but a little jewelry never hurt anybody.