Shop Trending By Category
Popular Trending
Top Trends
Perfect styles for your holiday fits
Best Sellers
Something for everyone on your list
Your Personal Stylist
Get Cdrop, our subscription service that delivers next-level styles to your door!
Score your first box for $19.99* *Limited time only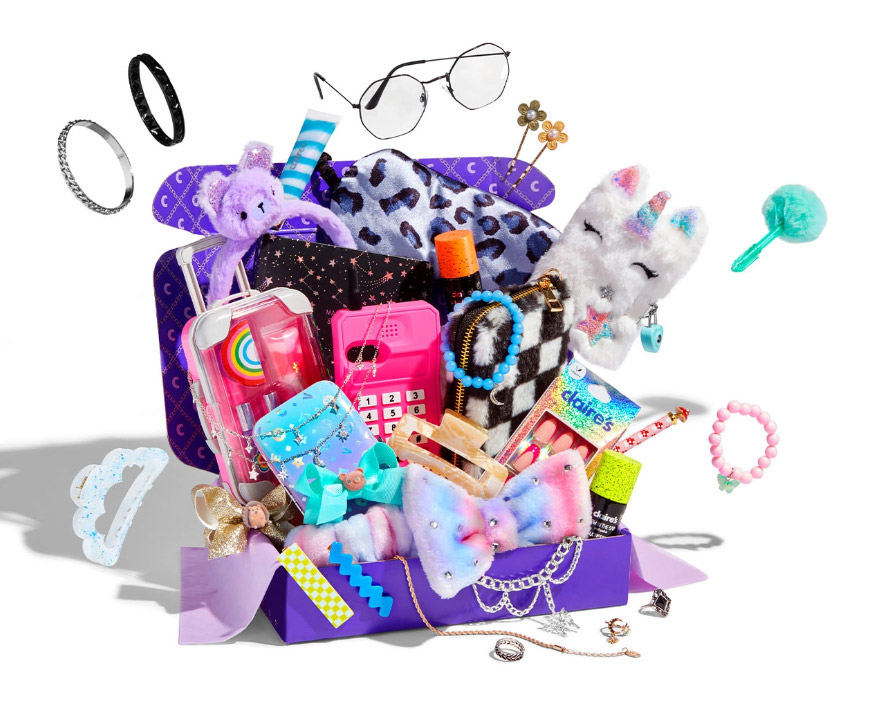 Trending Now
Discover exclusive styles and top trending brands only available at Claire's! Find everything from plush toys to accessories in our hottest sellers you can't help but love. There's lots to enjoy for hours of play time or for that epic look! We're constantly adding new products, so keep checking back to see what's hot and new in things that only Claire's will have. Happy shopping!
Claire's Club is made exclusively for your little ones between the ages of 3 and 6. Everything you will find here is adorable and sweet. You'll fall in love with precious accessories for their everyday outfits and special occasions. Dress up the little darlings in fantastical costume options so play time is always an adventure! Fairy wings, sparkling tutus and so much more to give their play time a glittery touch. Claire's Club is for kids who love the all the sparkle that Claire's offers!
Squishmallows are the cutest and softest plush toys around. Browse our wide collection of adorable plush animals and fruit for yourself or your bestie. Get a few for school, or hanging out with other squish collectors, but definitely get some for home. Our super fun squishy toys come in all colors and in all critters. Bring them to a play date for hours of squishy fun or carry it with you on your keychain. Kids' squishy fidget toys fit right in your pocket and can be taken everywhere you wanna go!
No girl left behind when it comes to cute jewelry for teens! We have very cute and super cool options in the hottest styles from chokers to pendant necklaces. Our fashion jewelry for teens can be that extra little something to really amp up your look. Use our jewelry for teens to dress it up for a night out with your friends, or dress it down for casual and easy looks for the weekend. Our jewelry for tweens can also help you put together some killer themed looks, because you know we thought of that too! We've got you girl!
Getting your ears pierced is SO easy and safe! There's no need to make an appointment, just stop by your local Claire's store and our trained and experienced specialists will be ready to take care of you! If you're thinking about getting your ears pierced, we've expanded our services and assortment to give you the trends you love! We offer ear piercing sets equipped with ear care, or you can upgrade to our Rapid Aftercare Solution that enables you to change your lobe earring within 3 weeks! Check out all the piercing options we offer as well as the hundreds of stud options, and fall in love with our selection!
Add on a little something extra with bag charms for girls! Brighten up your rainbow purse with a bright pom charm! Flow a little with fringe charms and hook it up to your your holographic clutch. Check out our selection of initial bag charms to personalize your look! These delightful charms also work well with bookbags for girls to brighten up your school day looks with fun additions. If you feel like your bag might look a little bored, cheer it up with a happy bag charm!
As the seasons change, we know the spring activities do too, so get your girls and coordinate some fun, scary, and festive looks for all seasons! Skim through our dress up outfits for girls and gather amazing ideas on how to make the celebrations a time to remember. Choose from tutus, to tiaras, to headwear, and other girl's dress up accessories to truly make your look authentic and unique! Our dress up accessories for girls will definitely make any and all festivities the best ever!
Our girl's jewelry holders are now better than ever! Girl's jewelry cases are great options for neat organization and putting away a little more than just your jewelry. Store some of your makeup tools here for easy access. Gorgeous jewelry hangers with unicorn icons or Eiffel Towers will work well for all of your pendant necklaces. You'll definitely love our girl's earring holders and stands that double as hangers too! You can perfectly place your earrings on here to prevent tangles, store your rings in its tray, and hang a few short necklaces so you'll never deal with obnoxious tangles again! It pays to keep things organized, and you can start your room upgrade with a cute jewelry holder.
Out of our selection of backpacks for girls, mini backpacks are one of our hottest trends! Get cool looks from these little cuties to elevate any look, day or night. Don't be fooled by their size! These funky backpacks are very roomy and have amazing capacity to carry all your essentials! Shine in sequins, glitter, or gorgeous metallics for a little something extra for your look! Play with neutrals & basics for casual looks that would work with any outfit in your closet. Claire's knows what you need, and we know you'll love what we have here for you!
It's your favorite tabby cat who loves naps and food. If Pusheen is your spirit animal, then you need to ask Santa for our Pusheen accessories. As one of our many snuggly critters, Pusheen plush toys bring the joy back into gifting. Take a look through our Pusheen accessories like Pusheen keyrings and backpacks to incorporate into your everyday life. We guarantee this chubby kitty will give you plenty of smiles around the holidays and forever!
Let those big adorable eyes sucker you into collecting all the Ty Beanie Boos you can! Ty Beanies for girls come in all sizes to accommodate the cuteness and the ultimate snuggles. We say this 'cause those really big stuffed Ty Beanies make a perfect pillow or to just decorate your room with plush. You can get them in miniature size with girl's Ty Beanie Boo keyring clips, so you can easily take these fun critters with you everywhere! Get our holiday collection of Ty Beanie Boos and get your room in the holiday spirit! Adopt one today!
Claire's has a gigantic assortment of fun plush toys for girls! Get your fix on all things magical, cuddly, and cute! Let's not forget colorful! Our plush animals for girls were made for brightening up any room! Fill your space with all these happy faces so you can start and end your day with adorable girl's plush toys. Decorate your locker or give them as a gift, these guys are ready to make someone smile!
Super sweet studs can easily sparkle up your look with shiny options, or get into new trends with geometric shapes for fashion forward looks. We even have multiples to give you the ear party looks you love. Mix different sizes, colors, shapes & metals for your first day glam to start your year with a lot of fab! Pick one or pick a few, studs are great options to have on deck for every single outfit for school.
For those extra special events that require a little more glam, our special occasion hair accessories will get you perfect and pretty. When you need florals for wedding hair accessories, don't forget to check out a few tutorials from us on how to really step up the glamour! Never worry about where to get prom hair accessories and homecoming hair accessories because we are ready for whatever look you are trying to achieve. Your little ones can also get the sparkle treatment with girl's special occasion hair accessories for any formal event! Even she deserves to be a little diva for a night!
Add some fun and plenty of flair to your device! We love telling you to "dress your tech" because we know how much your devices are your most precious accessory. Claire's is here to help you out with the best options to truly style out your tech with sparkly, colorful and fashion forward gear. Take your pick from whimsical charging cables & bites, fabulous phone rings & stands, and adorable earbuds & headphones that come fuzzy or adorned with cute critters. We have all the options or your phone, smart watch & tablet! Go on and dress your tech!
We fully believe that you can spread some real magic with our unicorn accessories for girls. And now that Spring has arrived, you have a few more ways to channel your inner unicorn! Get unicorn fashion accessories to show how you are supposed to do Spring unicorn style. Girl's unicorn accessories also includes a few fun hats, sleep masks, and a ton more! We know you love this magical creature and you'll fall in love with our unicorn accessories too!
Girl's wall decorations are meant for someone who loves to claim their space. Give them a chance to utilize some of our cute wall decorations and wall canvases for girls to spread positive messages and maybe a little sass too. Our wall decorations for girls also include beautiful dream catchers of all sizes and colors! We've got sparkle, and we've got rainbows and holographic options that we know you'll fall in love with!