Store Openings
Stores are open. Store hours may vary across states and provinces. Please check the status of your store here.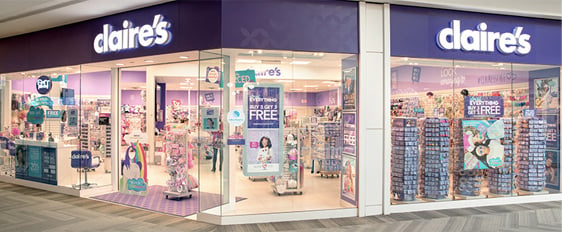 Keeping Our Claire's Family Safe
We are practicing strict social distancing in all our stores & facilities
The safety of our associates and our valued customers is our number one priority. We are following strict government guidance to ensure we keep you safe. Check the status of your state or province here.
Stay safe everyone, love the Claire's Team


We are sanitizing high touch surfaces such as payment machines and counter surfaces regularly

Store front signage denotes how many people can be safely accommodated in each store, and our floors are marked to guide safe distancing

Our associates and customers are wearing masks

Associates sanitize their hands and the ear piercing system, and wear single use medical grade disposable gloves for every piercing

The ear piercing station and chairs are sanitized before and after each piercing

Our specialized piercing earrings are part of a pre-sterilized cartridge that is loaded directly into the piercing instrument without ever being touched by the store associate

Hand sanitizer is available in all stores, and associates are diligently sanitizing their hands
We're in this together
We're living in unprecedented times - every day we're adjusting and finding ways to manage our social distancing while staying entertained and connected online. That's why we're staying open online 24/7, and have launched our "At Home with Claire's" page just for you; with tons of ideas to keep you and your families active and entertained, it's sure to bring much needed fun and inspiration as we navigate together through these rough waters.
The safety of our associates is our number one priority and we have made important changes to the way we fulfill your orders as recommended by the CDC and WHO, and include:
Morning social distancing and sanitizing safety briefings
Smaller shifts to maintain social distancing
Increased distances between packaging stations
Frequent sanitizing of all equipment
Hand Sanitizer readily available at all work stations, entrances and exits
We are extremely grateful for our fulfillment teams - they are on the front lines every day, helping to bring joy and fun directly to you, in your homes.
Thank you for your continued support and patience during this difficult time. We're all in this together. Stay safe and well.
Xo
Claire's