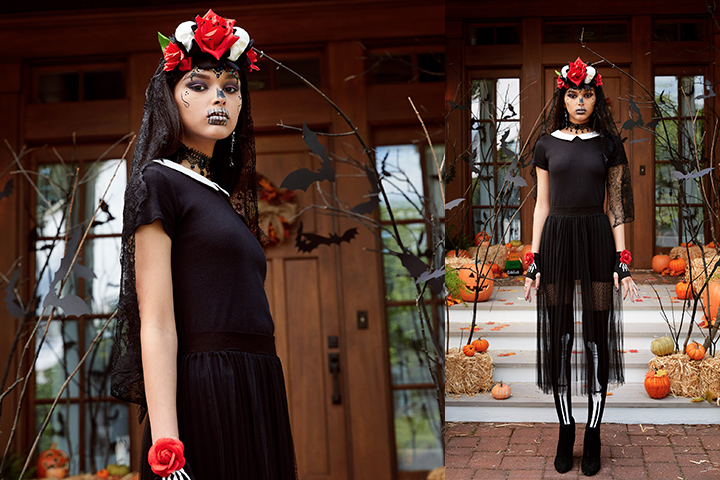 It's a look that is both glamorous and beautiful! Get creative with extra sparkling touches and makeup options for a unique sugar skull look. Floral headwear, lacy veils, bony accessories & sugar skull stickers...your Day of the Dead looks are here!
Day of the Dead Jewelry
Gothic elements and skull touches for your look! Mix it up with sterling silver earrings and skeleton earrings that dangle for extra effect. Add a touch of creepy cute jewelry to nail the look with lots of style!
Day of the Dead Accessories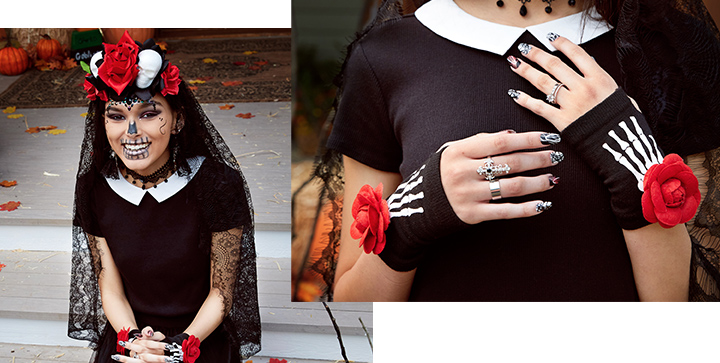 Bony additions plus veils & capes for your outfit! Add a little romance with a Day of the Dead headband complete with gorgeous botanicals and skulls as well as scary costume gloves made of lace or bone silhouettes to have you in a bony look from head to toe!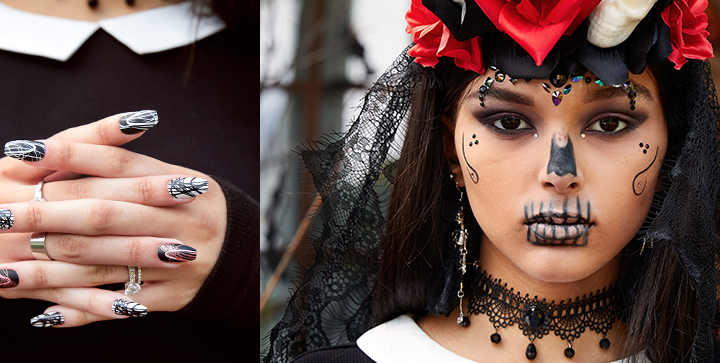 Create easy looks with Day of the Dead face makeup or complete your sugar skull with gems, stickers and extra beauty items! Put it all together & use a little creativity with cool Halloween makeup to achieve the classic sugar skull face. There are so many pretty Halloween makeup ideas here at Claire's!
A look that originates from a beautiful & celebratory holiday in Mexico. The Day of the Dead is a day that honors, celebrates and remembers loved ones that have passed on. A Day of the Dead costume consists of sugar skull makeup, skull jewelry, and floral arrangements or flower crowns as headwear. Often you will see ornate dress up looks & embroidery in a traditional Mexican style with dresses, gowns or other whimsical items that bring beauty and tradition together.

Create your Day of the Dead costume looks with lace veils and headwear, paired with our Day of the Dead or skull stickers to replicate the ornate sugar skulls that are often displayed on altars that are meant to honor the dead. Find colorful wigs to transform you Day of the Dead looks into something creative with sparkling face gems or Halloween makeup fo a look that is truly unique!
Come hang with us on social and share your content using #LoveClaires