Hair Tinsel 101
Give your hair instant shimmer with glittery tinsel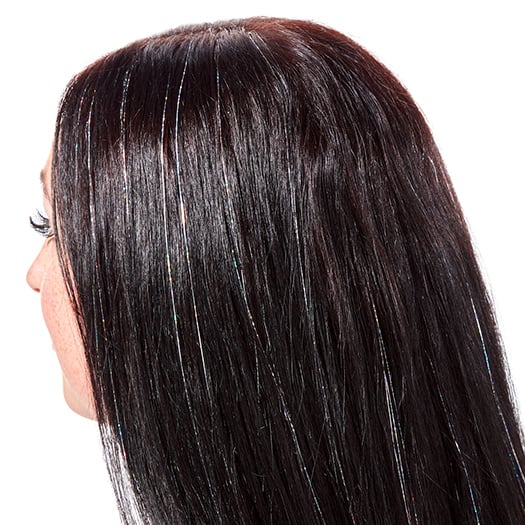 Get The Look
Follow these steps to create some hair magic!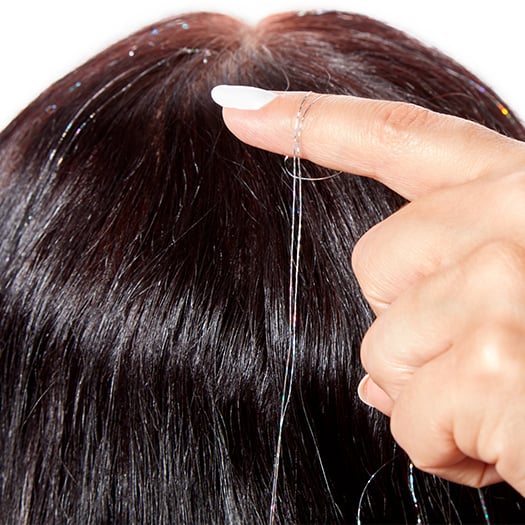 Step 1
Make a simple slip knot with a strand of tinsel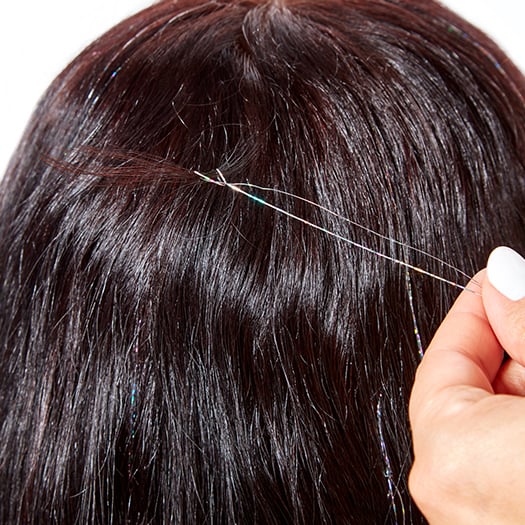 Step 2
Softly pull a tiny section of your hair through the knot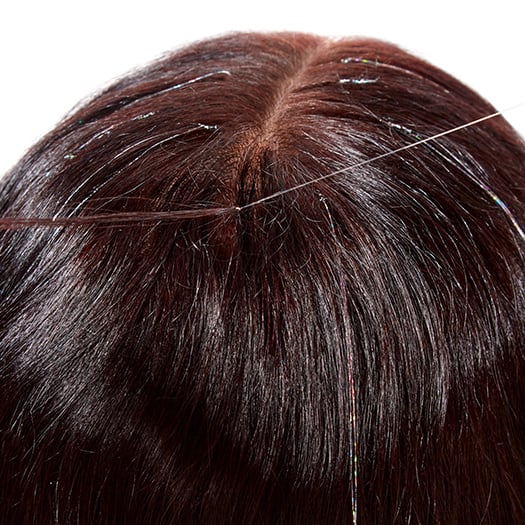 Step 3
Gently tie the knot around your hair with the tinsel
Vlasové lametky 101
Vlasy se vám lametkami jen zablýsknou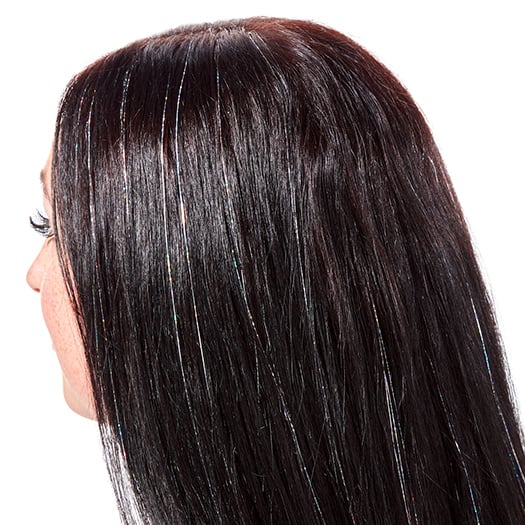 Jděte do toho
Chcete kouzelné jiskry ve vlasech? Je to prosté: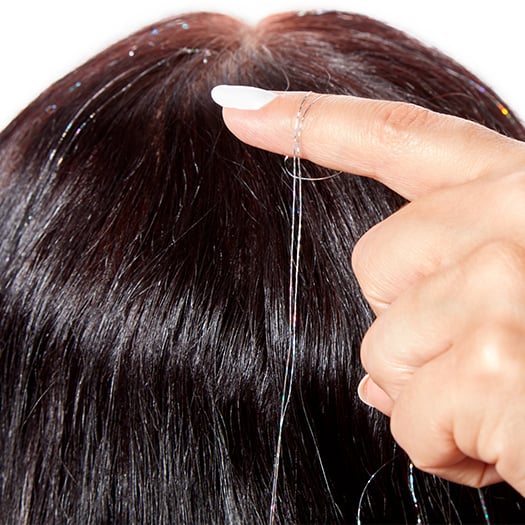 1. krok
Vezměte lametku a udělejte na ní jednoduchý klouzavý uzlík.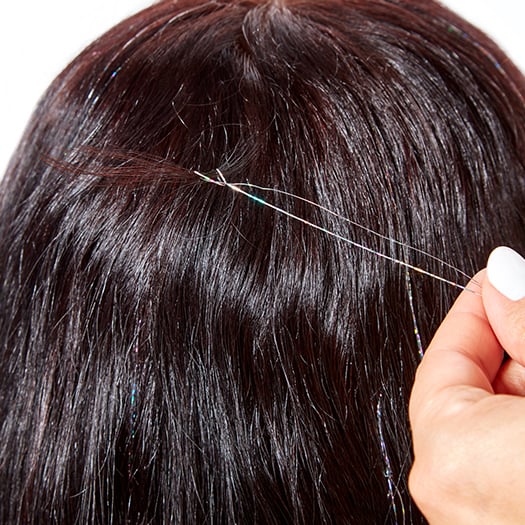 2. krok
Uzlíkem protáhněte tenký pramínek vlasů.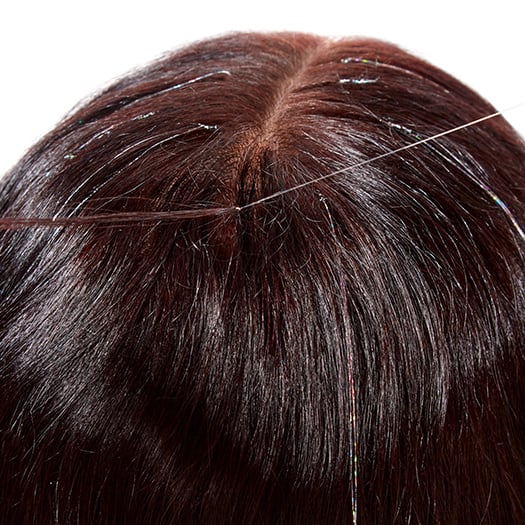 3. krok
Uzlík kolem pramínku jemně utáhněte.
Zo gebruik je hair tinsels
Geef je kapsel een sprankelende make-over met haarglitter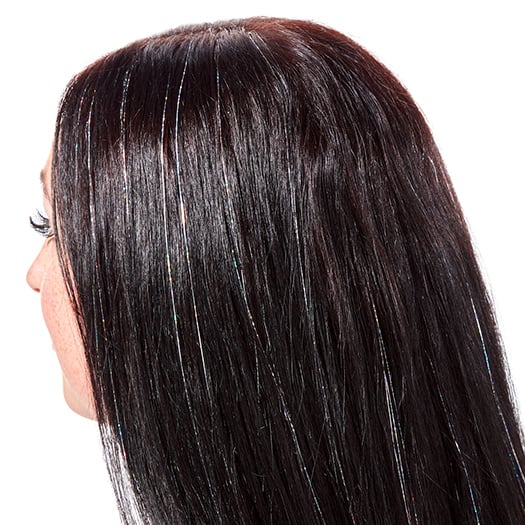 Get the look
Volg deze stappen voor een betoverende look!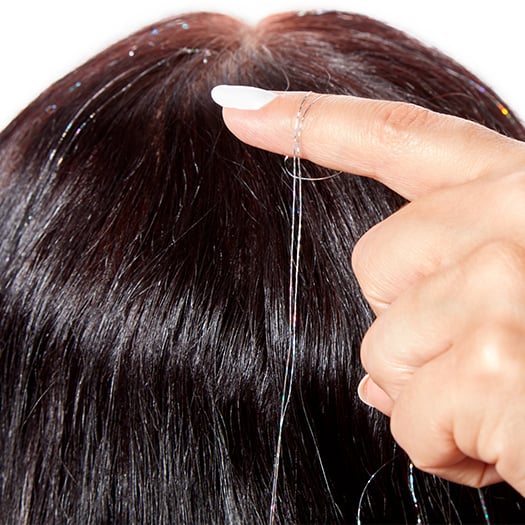 Stap 1
Leg een eenvoudige schuifknoop in één hair tinsel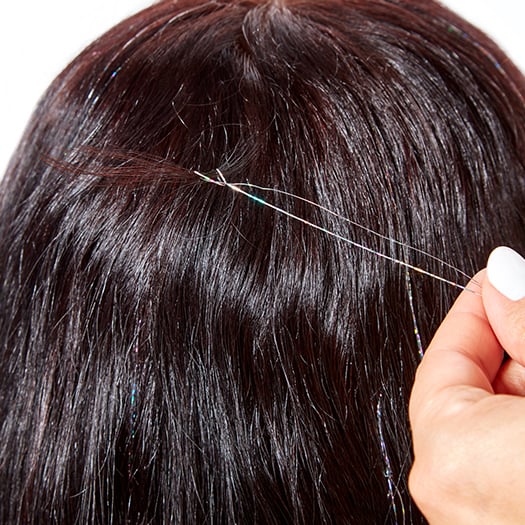 Stap 2
Trek voorzichtig een klein plukje haar door de knoop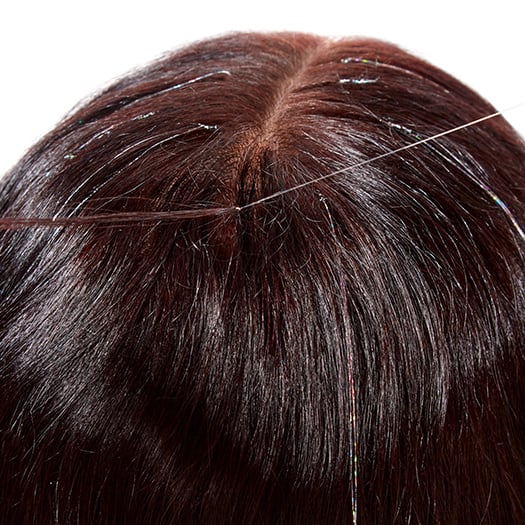 Stap 3
Trek de knoop voorzichtig vast rond het haar
Toe aan wat meer kleur in je leven?
We hebben hair tinsels in alle kleuren van de regenboog
Shop alle hair tinsels
Les bases des ornements à cheveux
Fais instantanément scintiller tes cheveux avec des fils ornementaux à paillettes !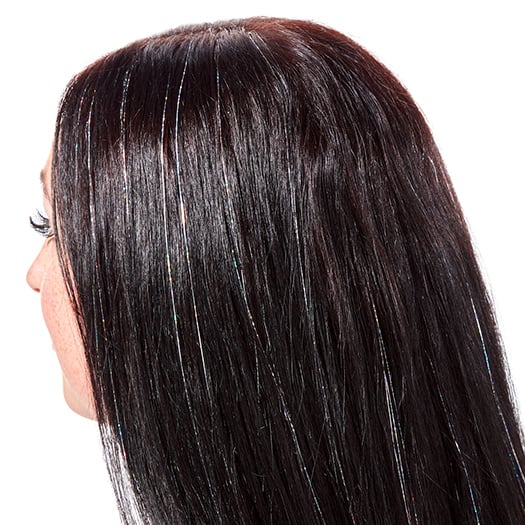 Adoptez le look
Suis ces étapes pour faire de la magie avec les cheveux !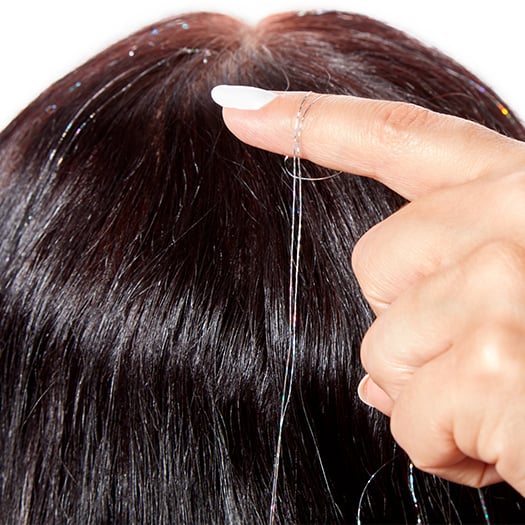 Étape 1
Fais un nœud coulant avec un morceau de fil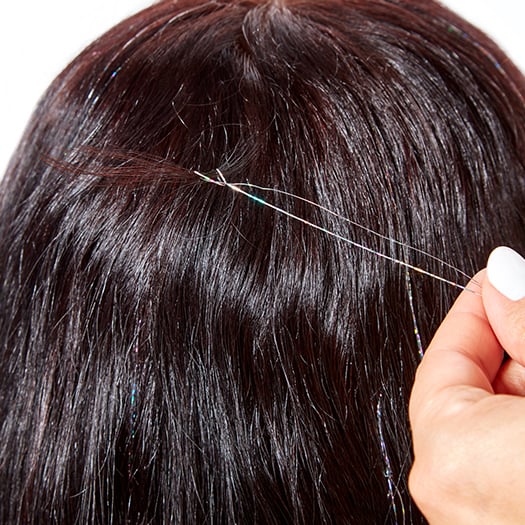 Étape 2
Tire délicatement une petite quantité de cheveux à travers le nœud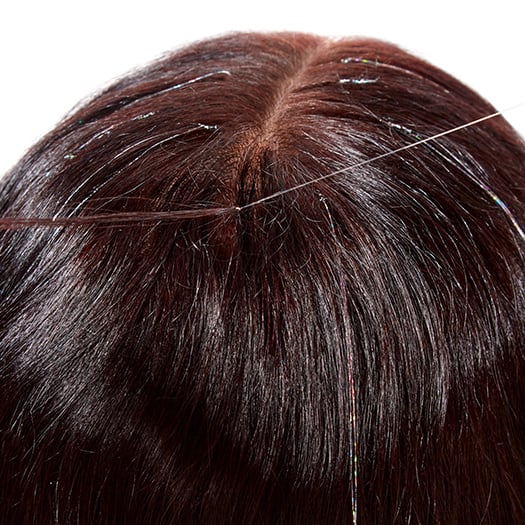 Étape 3
Serre délicatement le nœud autour des cheveux avec le fil ornemental
Haar Lametta 101
Glitzerndes Lametta für schimmernde Strähnen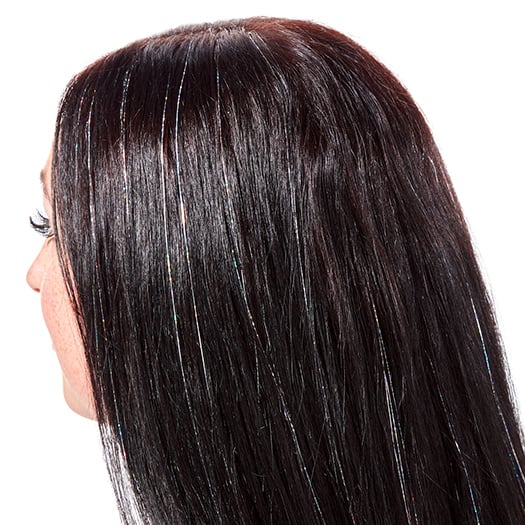 So geht der Look
In drei Schritten zur magischen Frisur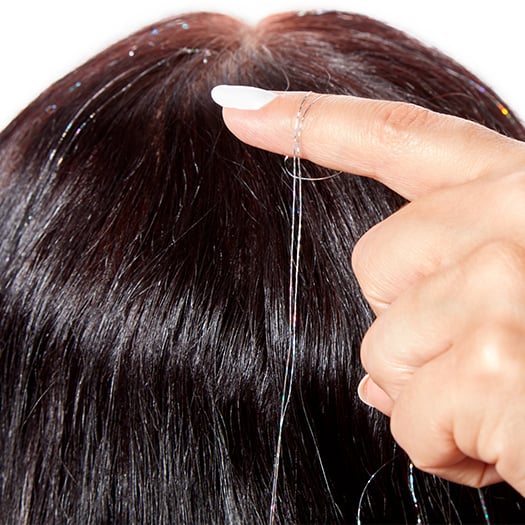 Schritt 1
Fädle einen losen Knoten in das Ende eines Lamettastrangs.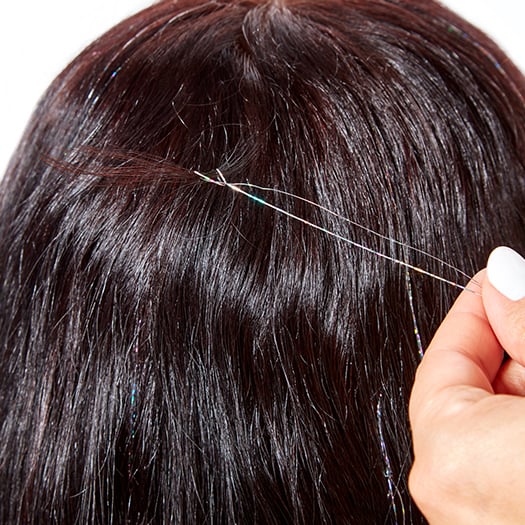 Schritt 2
Ziehe behutsam eine dünne Haarsträhne durch den Knoten.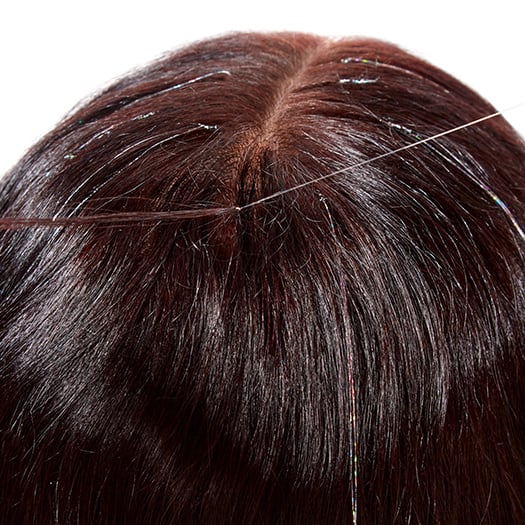 Schritt 3
Ziehe den Knoten um die Haarsträhne mit dem Lamettastrang vorsichtig fest.
Τρέσα μαλλιών 101
Δώστε στα μαλλιά σας άμεση λάμψη με γυαλιστερή τρέσα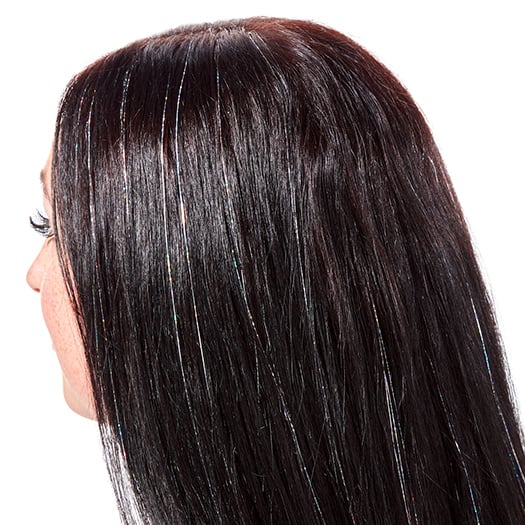 Αποκτήστε αυτήν την εμφάνιση
Ακολουθήστε τα βήματα για να κάνετε μαγικά με τα μαλλιά σας!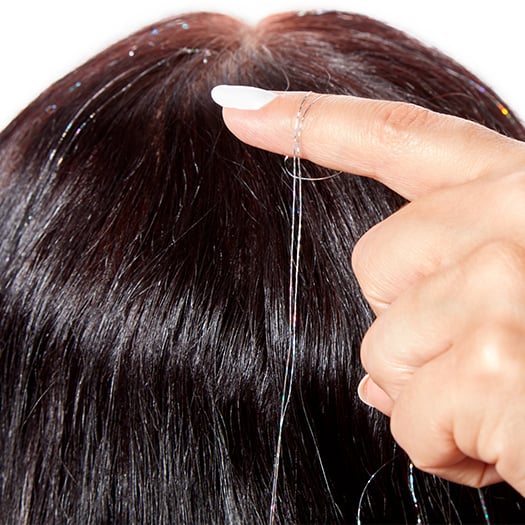 Βήμα 1
Κάντε μια απλή θηλιά με την τρέσα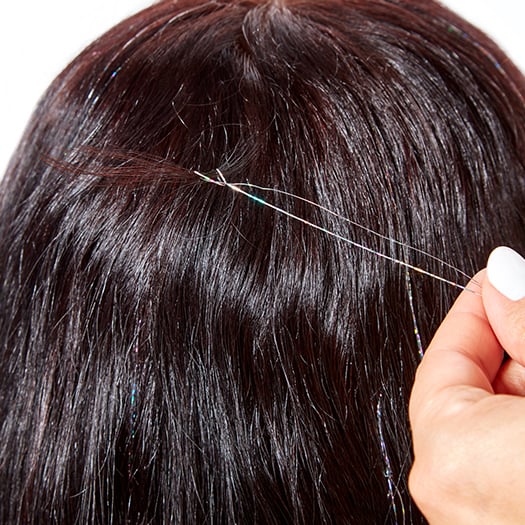 Βήμα 2
Περάστε ελαφρά μια μικρή τούφα μαλλιών μέσα από τη θηλιά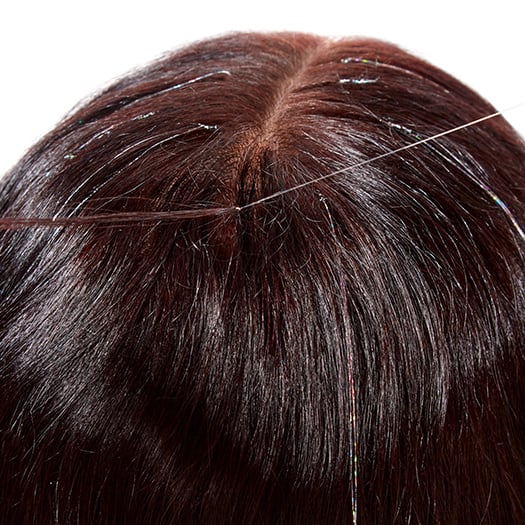 Βήμα 3
Σφίξτε ελαφρά τον κόμπο γύρω από τα μαλλιά σας μαζί με την τρέσα
Hajba való glitterszál 101
Varázsold azonnal csillogóvá a hajad glitterszállal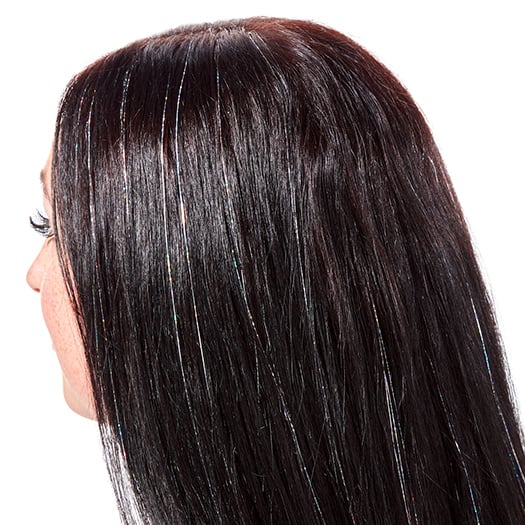 Legyen neked is ilyen frizurád
Az alábbi lépések követésével készíts varázslatos frizurát!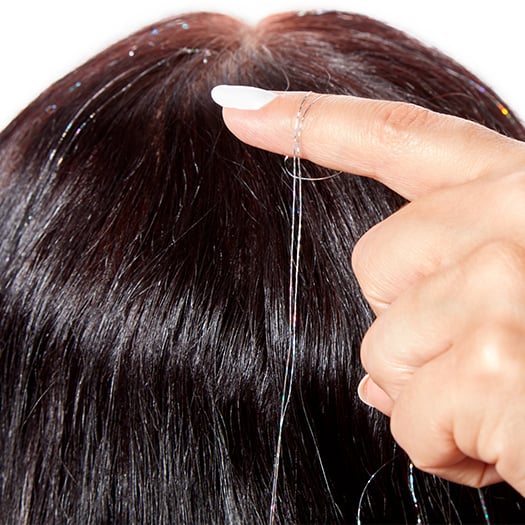 1. lépés
Készíts egy egyszerű csúszócsómót egyetlen glitterszállal.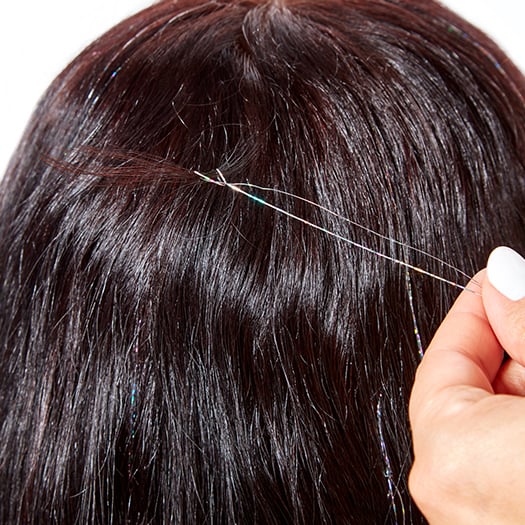 2. lépés
Óvatosan húzz át egy pár szál hajat a csomón.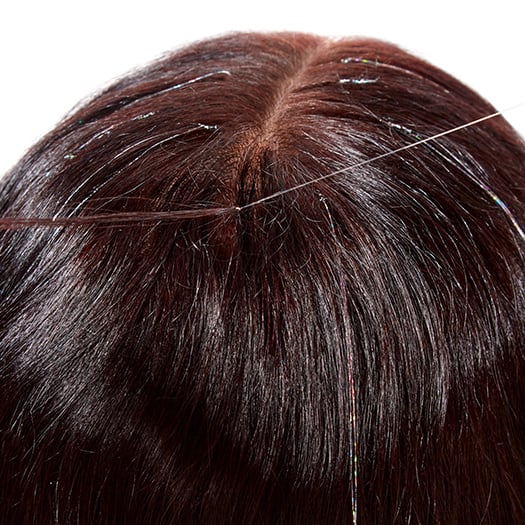 3. lépés
Finoman kösd a csomót a hajad köré a glitterszállal.
Fili decorativi per capelli 101
Fai brillare i tuoi capelli istantaneamente con questi fili decorativi glitterati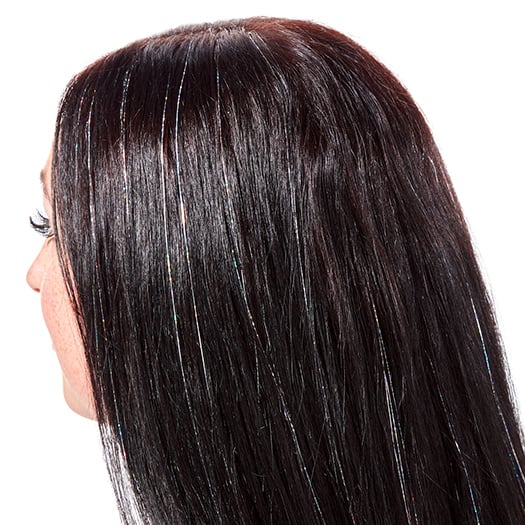 Crea il look
Segui queste istruzioni per dare un tocco di magia ai tuoi capelli!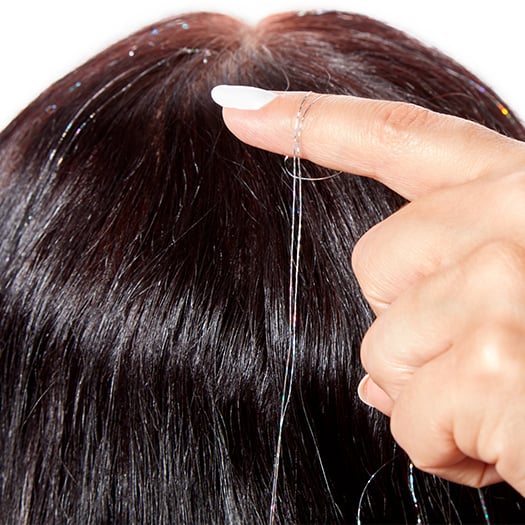 Passo 1
Crea un semplice nodo scorsoio con una ciocca di fili decorativi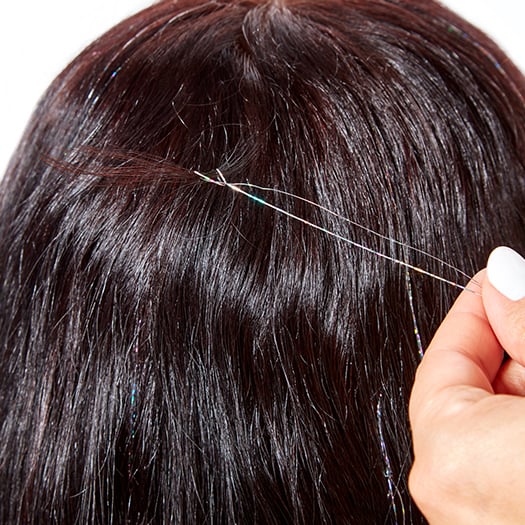 Passo 2
Infila delicatamente nel nodo una piccola sezione di capelli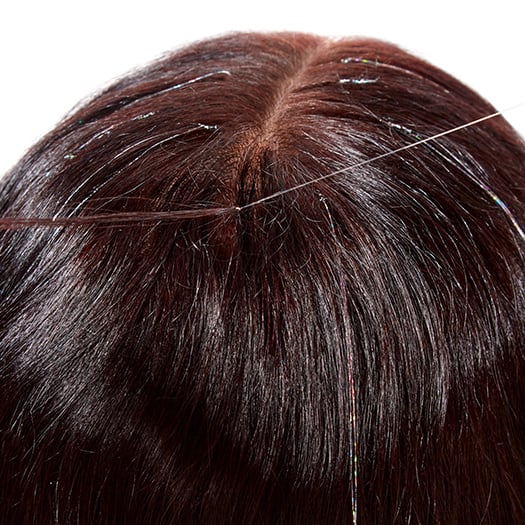 Passo 3
Stringi con cautela il nodo attorno ai capelli con i fili decorativi
Lameta do włosów
Dodaj swoim włosom natychmiastowego blasku dzięki błyszczącej lamecie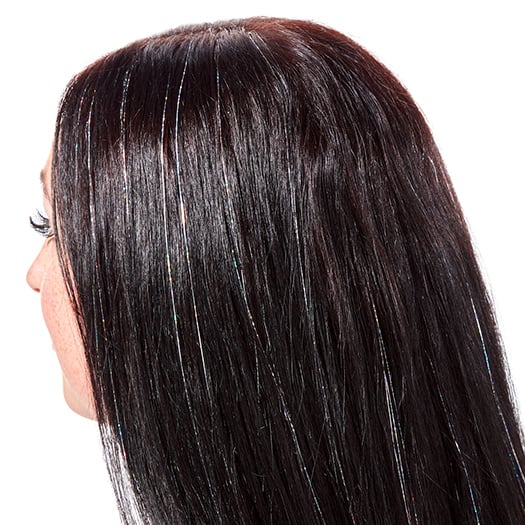 Get The Look
Follow these steps to create some hair magic!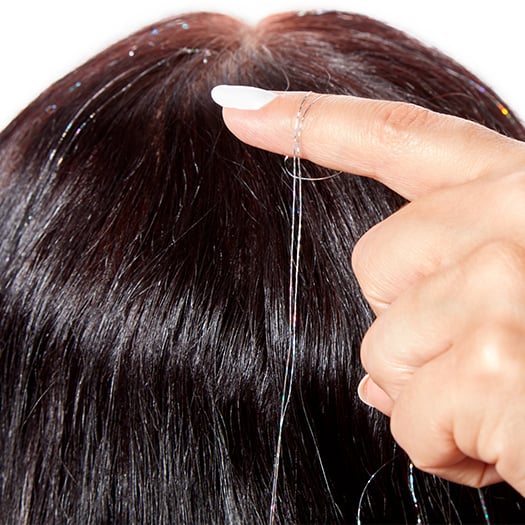 Krok 1
Zrób pętelkę na końcu pasma lamety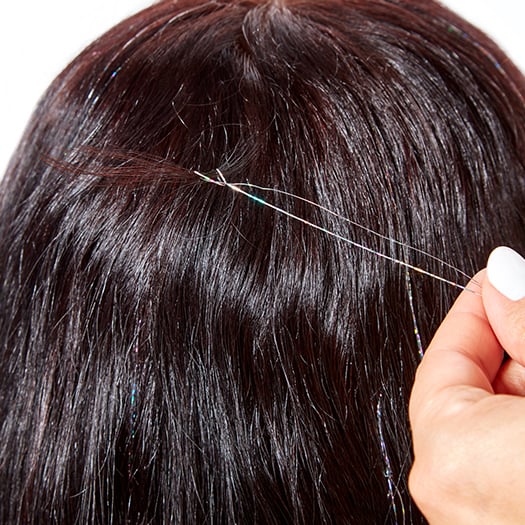 Krok 2
Delikatnie przeciągnij pasmo włosów przez pętelkę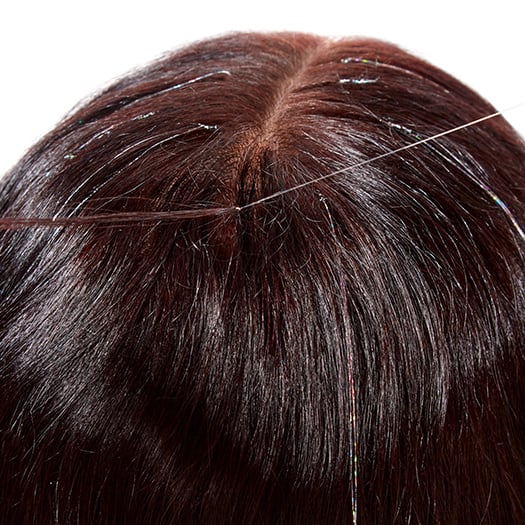 Krok 3
Delikatnie zacieśnij pętelkę wokół pasma włosów, tworząc węzeł
Instruções básicas de utilização de ouropel para cabelo
Dê ao seu cabelo um brilho instantâneo com ouropel cintilante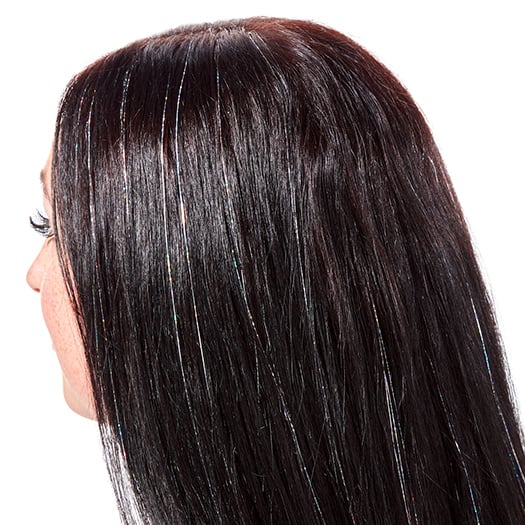 Consiga o look
Siga estes passos para criar alguma magia no cabelo!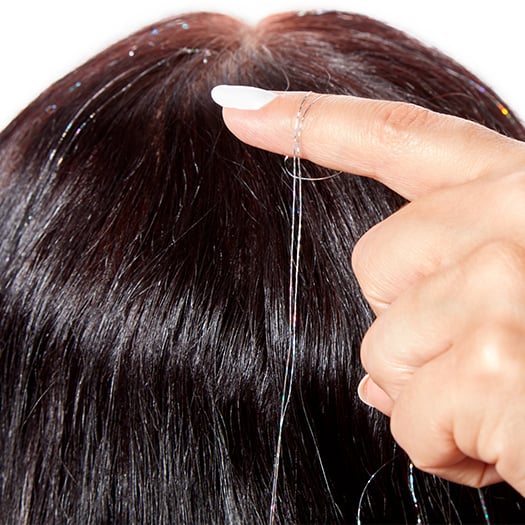 Passo 1
Faça um nó corrido simples com um fio de ouropel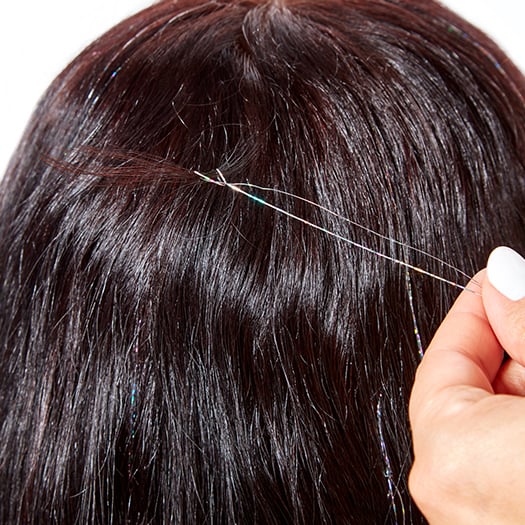 Passo 2
Puxe delicadamente uma pequena parte do cabelo através do nó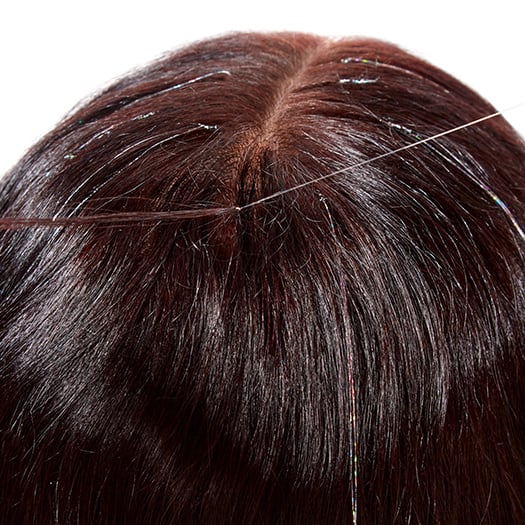 Passo 3
Aperte cuidadosamente o nó à volta do cabelo com o ouropel
Las claves de las extensiones de espumillón
Aporta un toque navideño al pelo con espumillón de purpurina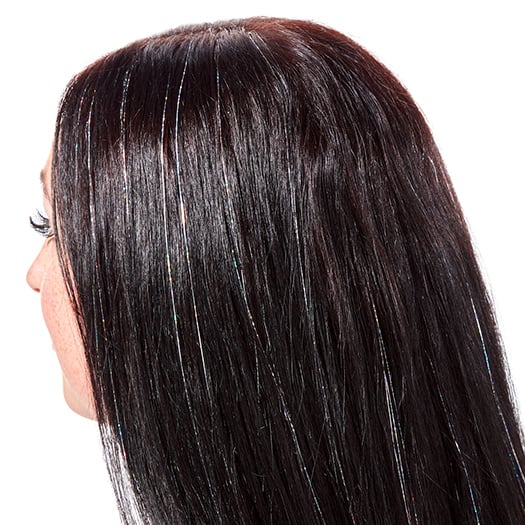 Consigue el look
¡Sigue estos pasos y dale magia al pelo!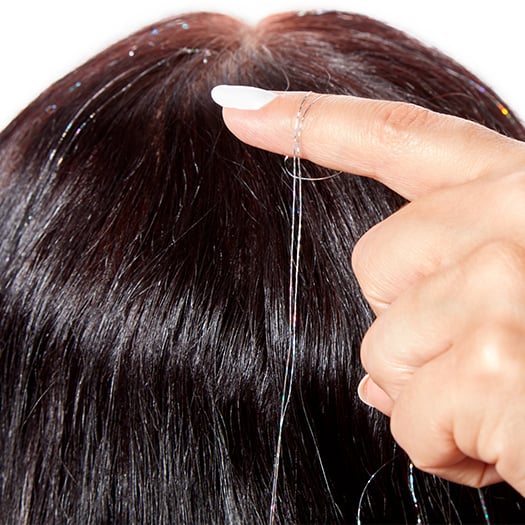 Paso 1
Haz un nudo corredizo simple con una hebra de espumillón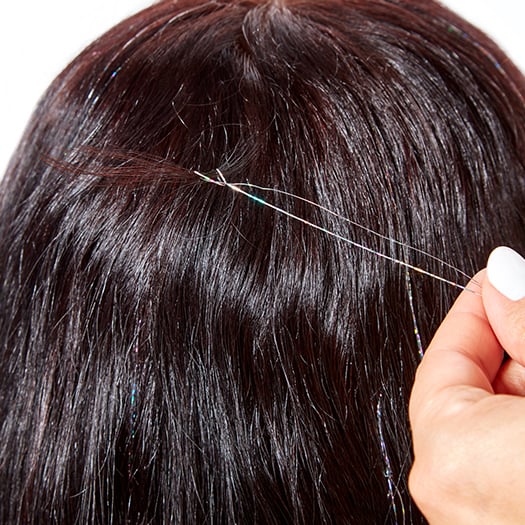 Paso 2
Pasa un mechón fino de pelo con cuidado a través del nudo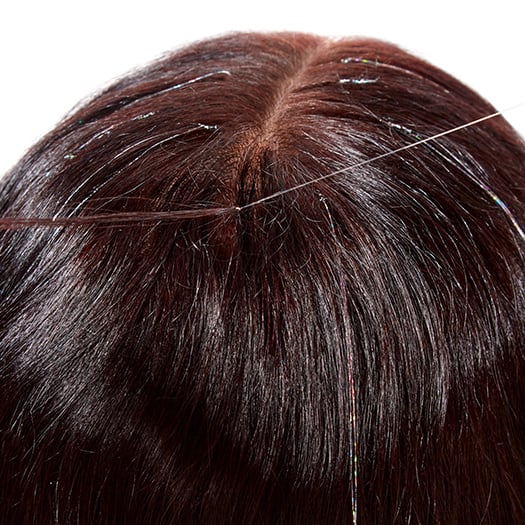 Paso 3
Aprieta con cuidado el nudo de espumillón que sujeta el mechón
Hair Tinsel vlasové lamety 101
dodajte svojim vlasom trblietavý lesk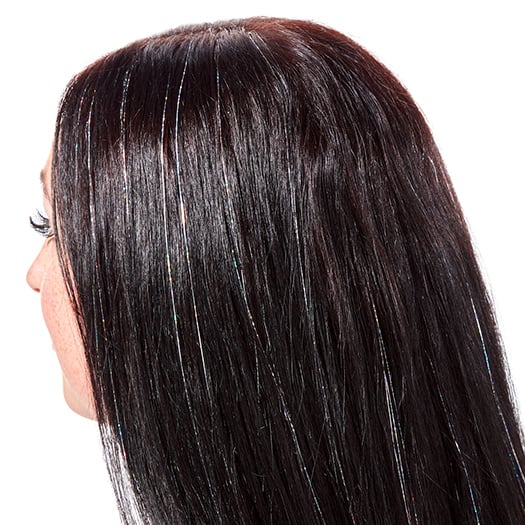 Ako na to
Pre dosiahnutie krásnych čarovných vlasov stačí urobiť iba pár krokov!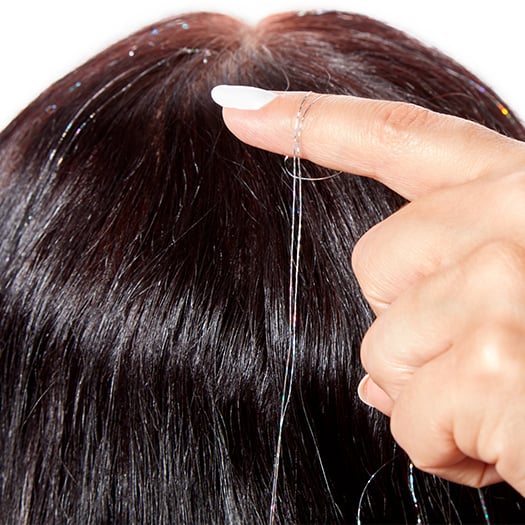 Krok 1
Vezmite vlasovú lametu a urobte na nej jednoduchý kĺzavý uzol.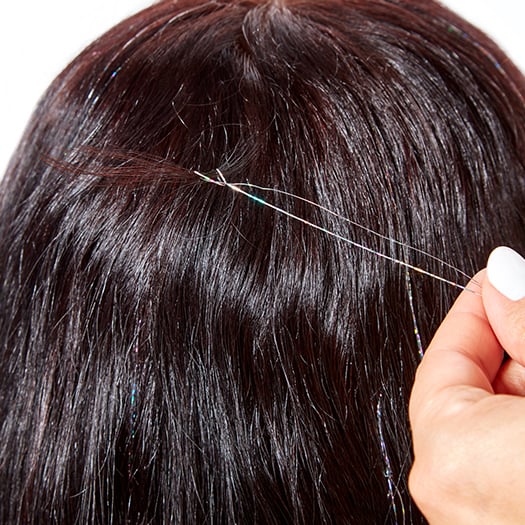 Krok 2
Uzlíkom pretiahnite tenký pramienok vlasov.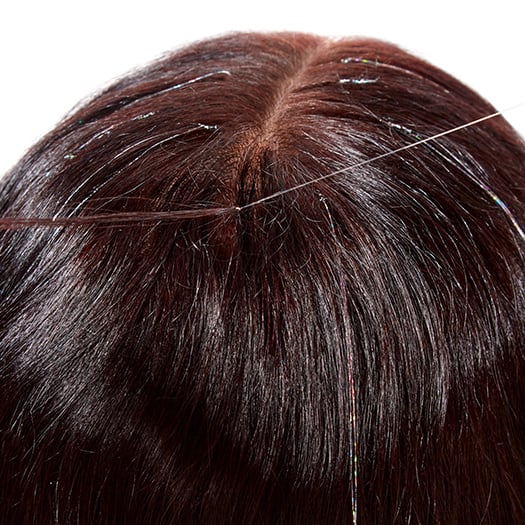 Krok 3
Uzlík okolo pramienka jemne utiahnite.